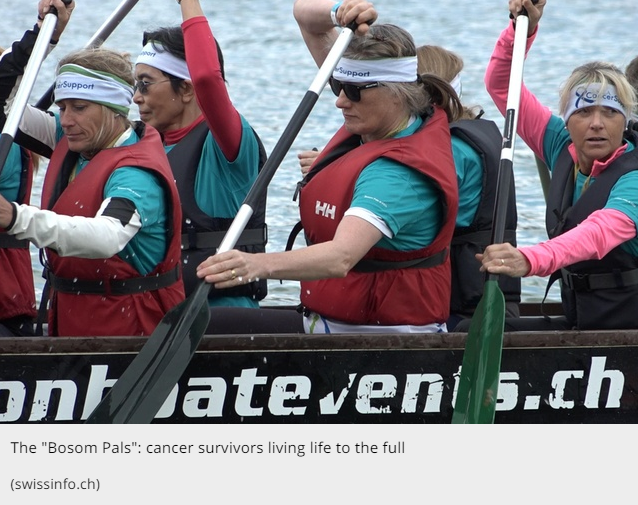 PADDLING BACK FROM CANCER
A cancer diagnosis a long way from home
By Julie Hunt  (swissinfo.ch)
September 6, 2018
Paddling in dragonboat
What happens when a foreigner in Switzerland is diagnosed with a serious illness, a long from home and the normal support network of friends and family? More than 40% of Geneva's residents are non-Swiss and many of them speak English. Those who are diagnosed with cancer can find it hard to
understand their treatment options when dealing with French-speaking healthcare professionals.
Set up in Geneva in 2000, ESCA CancerSupport aimed to help cancer sufferers who are struggling with language issues. Raynelle Arcaini, one of the organisation's three counsellors, stresses that there is no overlap with the work of the local authorities, "We don't have to take over things such as house cleaning and meal preparation because social services provide excellent services to in-home patients."
ESCA CS's trained volunteers accompany medical visits to help people stay focused when important things are being said, or to translate and clarify medical details. Often the volunteers just sit and chat with their "clients". The association also offers mindfulness-based cognitive therapy, bereavement support and exercise classes. Telephone advice is offered to callers from all over Switzerland, although the group is Geneva based.
It's thought to be the largest organisation of its kind in Switzerland. There is another smaller support group in Basel in English for people in that region. The Swiss Cancer League, a non-profit organisation made up of 20 cantonal and regional leagues, offers support by phone or online in Swiss languages and English.
An early member of ESCA CS, Patsy Allen, herself a breast cancer survivor, says, "When you're told you have cancer, it's like a kick in the stomach. You can't function normally, at least not for a while. You need help to get over that critical period". In this video, she explains why she turned to ESCA CS.
Health Human interest
Raynelle Arcaini had cancer in 2003, joined ESCA CS as a volunteer in 2008, and later became a counsellor. Her advice to cancer sufferers is,"Reach out because doing this alone is a lot harder. When you're able to step into a room of even just a couple of people who have been through something similar, there's an instant spark of sharing that takes place".
Drumming up funds
The group depends solely on membership fees and fundraising to cover the costs of the CancerSupport Centre and a growing number of care services. The main money-spinning event of the year is the 'Paddle for CancerSupport' dragon boat racing, held in September on the Lac de Joux (Rock Lake) in canton Vaud.
Dragon boat racing has its roots in ancient China, where the first competitions were held more than 2500 years ago. The sport has since been adopted in many countries, often with the goal of raising funds for cancer care.
In 1996, a sports medicine expert in Canada, Donald McKenzie, challenged the long-held medical belief that vigorous, upper-body exercise would lead to lymphedemaexternal link, a swelling in one or more extremities in women being treated for breast cancer. He trained a novice team of cancer survivors to compete in international dragon boat races in Vancouver. Not one of them developed lymphedema during training, and symptoms subsided among those who already had it.
Dragon boat races come to Switzerland
Patsy Allen, a former president of ESCA CS, heard about McKenzie's work and decided to organise dragon boat races in Switzerland in 2007, not only to boost the health of participants but also to raise money for the group. "Our goal is to show people that even though you've been diagnosed with cancer, you can still live a full and active life."
This year's paddling event featured 38 teams in the corporate, open and all-female categories. One team was made up of breast cancer survivors from ESCA CS's "Bosom Pals" group, who meet up once a month in Geneva. swissinfo.ch followed the ladies' progress through the heats. The Bosom Pals team is raising money for their support group, ESCA CS, which helps English-speaking people in Geneva deal with the trauma of a cancer …
The event raised over CHF100,000 for ESCA CS in the fundraiser's challenge alone: this is the money-raising undertaken by participating teams above and beyond their registration fees.
The "Bosom Pals" were last (but not least) in the races. Team drummer, Patsy, was upbeat about it,"We were just happy to finish!".