For the KIDS there's the Mini-Dragon Boat races
 

area accessible from Kiddieland at the Dragon Boat Festival!

Click here to see the 2019 Mini-Dragon Boat Race!  Well done kids!
Our Mini Dragon Boat competition is a free event . . .
In a special kids area beside the Paddle for CancerSupport Dragon Boat Races in L'Abbaye your children will have a great opportunity to Paddle for CancerSupport like mum and dad. These future paddlers will be having loads of fun while learning technique in their own events.
. . . and there are free Activities in Kiddieland too!
In addition, we have many fun activities lined up for children of all ages: canoe rides, face painting, bouncy castle and back by popular demand, Magic Shows, a Crafts Corner and more from Jour de Rêve!! Click here for other Kiddieland activities.
It's all free, although a donation to ESCA CancerSupport would be very much appreciated!
MINI DRAGON BOAT races are for children 8-15 years old (or younger if over 1.25m tall)
Mini Dragon Boat Requirements:
• Entries in advance only – Read details below
• Parent/guardian must sign for every child
• Crews of 6 children in 2 canoes joined together, paddling like a dragon boat
• Single children may enter but priority will be given to teams of 6 entering in advance
• Combined ages in one boat may NOT exceed 70 years.
• Minimum height for all competitors is 1.25m
• All boats are steered by a competent adult provided by the regatta.
• Racing starts around 10h00 and finishes around 15h00.
• Races will not be rescheduled to accommodate competitors or parents racing in the adult dragon boat event
• Prizes for the 1st and 2nd place winners!
• Competitors in the Mini Dragon boat races can take canoe trips without further registration
Mini Dragon Boat Entry Forms
• Entries will close when all places are taken, but registrations after that will be added to the wait list. The organisers will confirm to entrants whether the entry is confirmed or whether they have been added to the wait list.
• NOTE:  Limited places available!  Register early to avoid disappointed children
• All competitors must be able to swim at least 25m. Non-swimmers are not permitted to compete
• Whole crews of six will be given priority and individual children without a crew will be placed into crews by the organisers, if places are available
• Read the Terms and Conditions below as you will be asked to accept them before submitting the form
• This is a very popular event so entries will be strictly first come, first served until all places are full
Mini Dragon Boat Race Course
Competitors will boat from the area adjacent to the Mini Dragon Boat Control Tent and complete a short course in this area near the bank.  All boats will have a competent adult helmsperson provided by the regatta.
Mini Dragon Boat Rules of Racing
• All competitors must wear the life vest supplied.
• Clothes may get wet so shorts or swimwear are recommended. Long trousers/jeans are discouraged.
• Children should wear sandals or old sneakers as they will need to walk in the water and the lake has a very stony bottom.
• While boating, competitors must obey instructions from the boat marshals and helmspeople
• When on the water, competitors must obey instructions from regatta officials
• The judge will decide the winner. The judge's decision is final
• In the event of a collision, a race may be restarted
• Crews must stay within the regatta area and not interfere with the main dragon boat racing
• If a competitor falls out of a boat and is unable to get to the bank easily, he/she should hold on to the boat but not attempt to get back in. A safety boat will always be close by to help.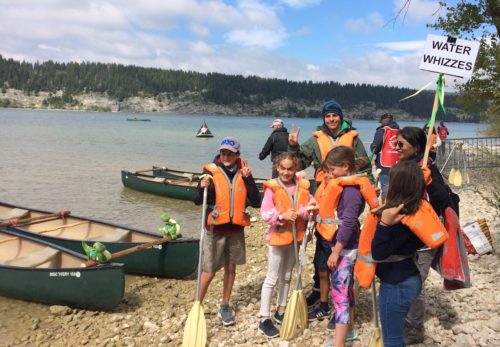 Terms and Conditions for Mini Dragon Boat participants
• Personal accident insurance is mandatory.
• State of health: Competitors must be in good physical condition at the time of the races. Competitors with injuries at boarding time will not be allowed to race. The organisers reserve the right to refuse entry to any competitor they consider unfit to participate.
• Swimming capacity: Competitors must be able to swim at least 25m. Non-swimmers are not allowed to participate.
• Appropriate clothing: Swimwear, polypros, shorts or wetsuits are appropriate. Jeans and long trousers are strongly discouraged as they can hamper swimming/rescue. Children should wear sandals or old sneakers as they will need to walk in the water and the lake has a very stony bottom.
• Obligatory life vests: Competitors must wear the life vests/life jackets provided by the organisers. Competitors must ensure that the life jacket is securely fastened and obey instructions from organising personnel.
• Claims: Competitors participate at their own personal risk. The organisers, partners, sponsors, supporters and any other person, enterprise or organisation associated with the races and the festival are not liable for any injury, loss, damage or expense suffered or incurred during training, racing and any other form of participation in the Mini Dragonboat competition.

• Photo/video release: Competitors authorise ESCA CancerSupport to use photos/videos in which they feature and renounce any and all claims to compensation.
If you have any other questions about the children's boating activities, please email info@paddleforcancer.ch.